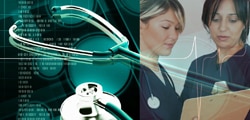 As a company, our main focus is to deliver improved patient outcomes. With our specialist nurse advisors' intimate understanding of national treatment guidelines, we can work together with patients and practices to assist healthcare professionals to deliver the most up to date care for their patients.
That's why over the years we have invested heavily in the provision of specialist nurse advisors to ensure we provide highly qualified disease management experts, not people who are perhaps just training towards their diploma. People with a difference: people with a passion for the disease area they work within, people who can themselves make a real difference to the patient, the practice and the profession.
We focus on specialist therapy areas such as asthma, COPD, diabetes, cardiovascular disease or other long term chronic conditions. Our specialist nurse advisors are all experts in their chosen disease field and they share their knowledge, confidence and experience with patients, practice nurses, GPs and CCGs.
At NSHI we specialise in the field of in Primary Care and our management team have designed and delivered nursing and IT services to over 10,500 practices in the UK on behalf of a variety of NHS and pharmaceutical company customers.
Nurse Advisors from NSHI are credible, knowledgeable professionals – with a difference.
How we can help
Our specialist nurse advisors provide support and education for patients and carers, including patient counselling and patient compliance with treatment.
They spend time raising awareness of a specific disease among practice staff through appropriate education, independent advice and support.
GPs and CCGs throughout the UK use NSHI specialist nurse advisors to support the implementation of local or national best clinical practice guidelines through a process of clinical audit, patient review, reports and feedback to practice staff and practical change management plans.
All NSHI nurse advisors are motivated by the desire to improve patient outcomes. They provide expert knowledge and expert service. Our clients say they can't imagine life without them. Find out what makes them so special.
Experience and expertise
When GPs and CCGs or pharmaceutical companies need help with specialist therapy areas such as asthma, COPD, diabetes or cardiovascular disease, they bring in Nurse Advisors from NSHI because they know they can trust that person to deliver.
Nurse Advisors from NSHI will have
• attained a qualification (to at least diploma level) as a disease management expert
• an average of 15 years' NHS experience
• attained a senior role in their profession
• a passion for improving patient outcomes
They come from a variety of backgrounds including community matrons, lecturers, senior nursing specialists; they have been hailed as local experts in their own field and they want to share their experience, confidence and expertise with others so that the patient will benefit.
That's the big difference with NSHI Nurse Advisors and it's been appreciated and valued by some of the world's leading pharmaceutical companies for many years.
Nurse Advisors from NSHI are indeed certain to deliver, trusted to fit.
The way we work
NSHI is not a recruitment agency only interested in how many people we can place. We are specialists, only interested in placing the best quality people, specialised in their particular field of disease management.
We design solutions to deliver what the NHS and the patient needs. Its quality that counts, not numbers of people.
We underpin our service with cutting edge technology to provide a total solution, not simply a resource.
Pharmaceutical companies appreciate they're involving the best in the business when they involve NSHI – they never leave us. They love the high levels of service we give, they enjoy the peace of mind we give and the patient-focussed results we generate. We are justly proud of our reputation for our expert knowledge and expert services.
Register with us
At NSHI we create teams of high quality, experienced nurses to work on a variety of projects. We constantly seek to make contact with nurses who meet our existing standards:
If you have
attained a qualification (to diploma level) as a disease management expert
an average of 15 years' NHS experience
attained a senior role in your profession
a passion for improving patient outcomes
To find out about current Nurse Vacancies within NSHI please contact: